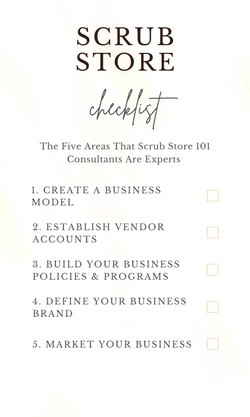 Start On Your Checklist
We understand that starting a new business can be a challenging and exciting process. That's why we're here to help you with the essential steps you need to take to get your scrub business up and running successfully. We offer services to help you create a solid business model, establish vendor accounts, build your business policies and programs, define your business brand, and market your business effectively. Our experts are dedicated to providing you with the guidance and support you need to achieve your business goals. Whether you're just getting started or looking to grow your existing business, we're here to help. Contact us today to learn more about how we can support your business success!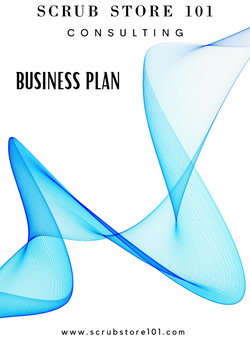 1. Create A Business Model
Do you have a physical store, an online store, or both? Do you have a clear understanding of the resources you need to move forward with your business? It's important to conduct thorough research and plan your finances, marketing, and operations in advance, even before you start ordering inventory. By consolidating all of your research, analysis, and planning into a comprehensive business plan, you can avoid making mistakes in the future and set yourself up for success.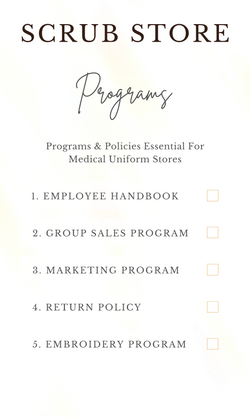 3. Build Your Business Policies & Programs
Scrub Store 101 has extensive experience in medical uniform market. We understand the unique needs and challenges of this market and can provide tailored solutions to help store owners succeed. Additionally, Scrub Store 101 offers a wide range of customizable policies and programs, including return policies, employee training programs, and merchandising guidelines, that can be tailored to meet the specific needs of each individual store. By using Scrub Store 101, store owners can save time and effort by not having to create documents from scratch and can have confidence in the quality of the policies and programs they are implementing in their stores.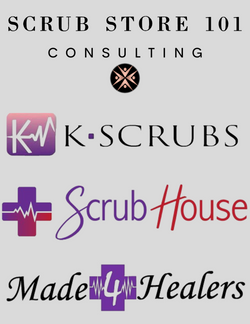 4. Define Your Business Brand
Scrub Store 101 has a deep understanding of what it takes to build a successful brand in this market and can provide valuable insights and guidance to store owners. Scrub Store 101 can help store owners to identify their unique selling proposition, define their target audience, and develop a cohesive brand identity that aligns with their values and mission. Additionally, Scrub Store 101 can provide support in creating a strong visual brand identity, including logos, signage, and designs. By working with Scrub Store 101, store owners can develop a strong, memorable brand that sets them apart from their competitors and resonates with their target customers.